The New Oakville Sub
Track Plan and Description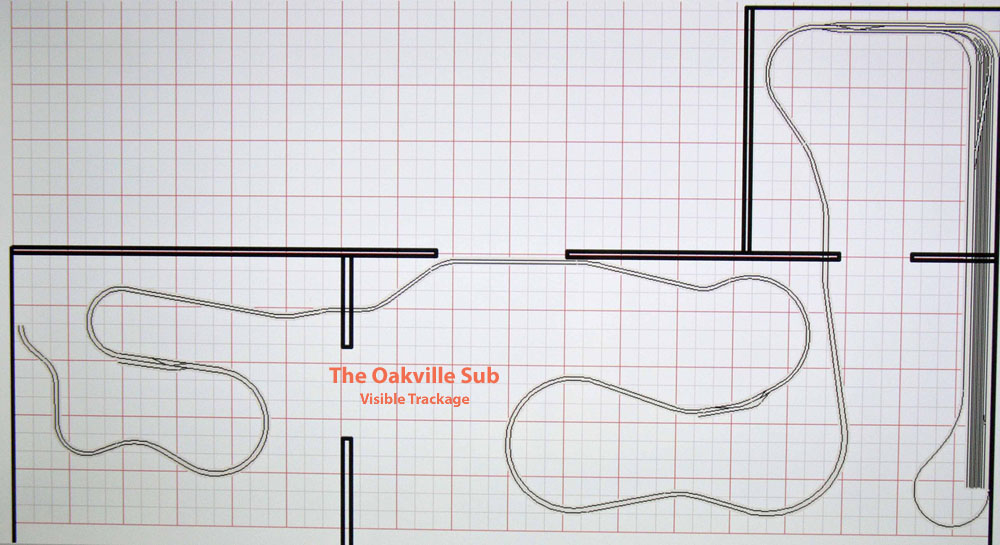 As you can see, the Oakville Subbasement sized. Each small square here equals one foot. We have the south room on the left, then the middle room, and finally the north room at the upper right. Spanning the door in the middle is a lift out bridge/section.
Under the trackage shown in the south room is a six track bidirectional staging yard - each track holds upwards of 100 cars.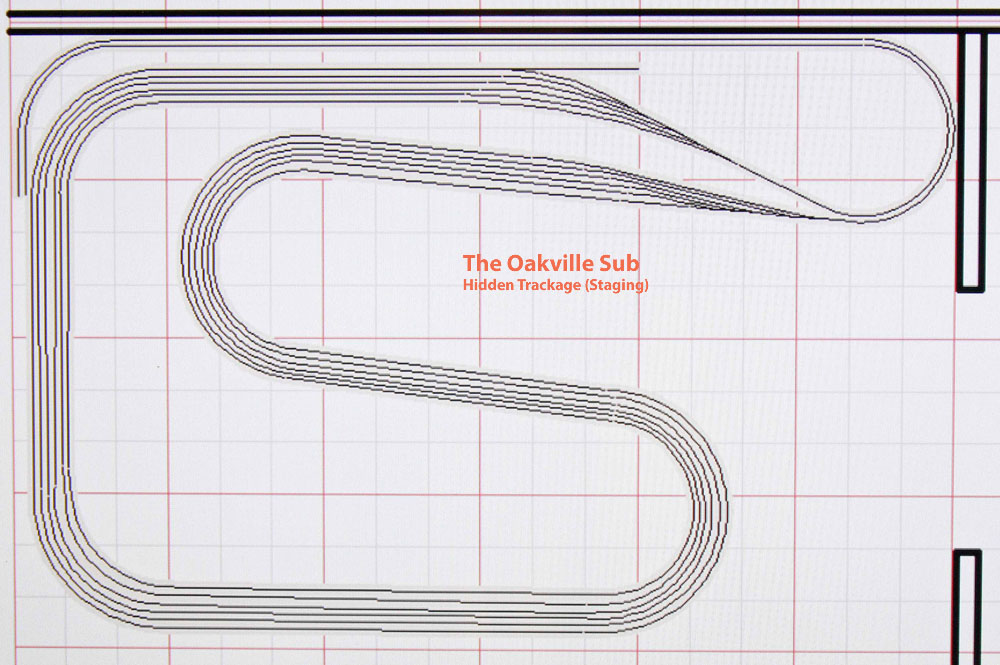 The plans you see are essentially what was built with some very minor changes. The lift-out section stays in place most all the time - the layout has been built near my eye level making it very easy to simply nod your way under.
There are photo realistic backgrounds (from Backdrop Warehouse) with coved corners.
There are two five switch custom built #8 ladders in staging. Although staging and other yards are laid using cork on plywood, I used spline roadbed with cork for the main run. Track is Micro Engineering Code 55, using salvaged track from the old sub in staging. I've used the concrete tie version for the main, but of course wood ties for the visible yard. Switches are Atlas Code 55, all controlled by Tortoise machines through the Digitrax DS64. I added two crossover/siding pairs on the main in the interest of operational diversity. Additionally, the Sub has fully operating bidirectional signals.
History
The Oakville Sub represents the UP (nee SP) Bakersfield to Mojave line in south central California. It is not meant to be a literal copy of that line, although many representations are similar. In my world, the UP has finally double tracked the entire line and daylighted all the tunnels and traffic flows easily. (In real life, this is actually happening with the daylighting of several tunnels and extension of sidings.) Oakville yard is a complete fabrication, although there are some comparisons to Bakersfield, and the location is more like Tehachapi at the top of the hill.
There are no towns per se; I have modeled neither the town of Tehachapi nor the famous loop. The layout is meant to be a railfan's layout - a place to watch trains. The time is today.
The layout has appeared twice in Model Railroader, once in the Model Railroader Calender, and many times in N-Scale Magazine.